Welcome, aloha, hallo!
Welcome to my website, I am a contemporary wildlife, equestrian and nature inspired artist dedicated to promoting conservation through my work with a percentage from each piece going straight back to the many animals I depict. My work is bold, bright and expressive and I am a bit of an experimenter, but love nothing more than getting down and dirty with a stick of charcoal! I have a passion for horses, terriers and all wildlife, but Painted Dogs (aka the Painted Wolf or African Wild Dog) are my go to species and with only roughly 6600 left in the wild today, I hope my paintings and drawings of them help promote awareness and raise vital funds for this enigmatic species.
The 100 SERIES continues...
LIMITED EDITION PRINTS now available of some of my 100 series in the 100 gallery, please do message me if there is a piece you would like as a print - happy to do custom prints :)
My series of the '100' whereby I will be producing 100 wildlife pieces and 100 equine pieces throughout 2023 is well underway. Please do have a look at the Gallery of 100 Wildlife pieces and the Gallery of 100 Equine pieces. Each will be added to as and when I do them, roughly 10 a month (think I may be a bit busy!) all at a reduced price and exclusive to my website. These will be documented throughout my social media and exclusive access to these will be given to anyone firstly on my mailing list - you can sign up with the pop-up on here and get your 10% discount code!
I very much look forward to seeing what transpires from the studio....watch this space!
In 2020 I created and founded Artists for Painted Dogs a collaboration of wildlife artists from across the globe raising funds for all wildlife through online exhibitions and events on our dedicated website and thus far we have donated over £100,000 to conservation charities. We hope to continue to support projects throughout the world with our artworks.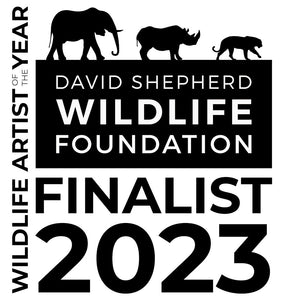 Finalist Wildlife Artist of the Year 2023